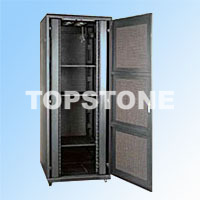 CHARACTERS:
GMPX-MW server cabinet is a kind of efficient cabinet, It plays a vital position in the equipment room or in the office. Good appearance and process, modern style,which will add value to your project. Welded frame, maximum static load is up to 1000Kgs; big interior space;hard structure;front and back doors with high-density mesh , a package solution to protect the machine, ventilation and cooling, external observation for the machine running as the three applications.
The side panel could be adjusted .
The top, bottom alignment of multiple channels could be closed , The size of large alignment hole in the bottom could be adjusted on demand.
Used for combined with other cabinets .
There are grounding pole in the cabinet and has grounding wire.
Widening the groove with cover in both sides of the cabinet.
Adjustable front and rear square hole bar, print the U-digit mark.
| | | | |
| --- | --- | --- | --- |
| | | | |
| Fan on the top | Adjustable side panel | Widening the groove with cover in both sides of the cabinet. | wiring groove |
Type
Size(mm)
W×D×H
Valid gearing space
Standard parts
Thickness of material
GMPX-MW6622
600×600×1200
22U

2 fans1socket1salver

Column 2.0mm
Others 1.2mm
GMPX-MW6822
600×800×1200

4 fans 1socket1salver

GMPX-MW6627
600×600×1400
27U

2 fans 1socket1salver

GMPX-MW6827
600×800×1400

4 fans 1socket1salver

GMPX-MW6632
600×600×1600
32U

2 fans 1socket2salvers

GMPX-MW6832
600×800×1600

4 fans 1socket2salvers

GMPX-MW6637
600×600×1800
37U

2 fans 1socket2salvers

GMPX-MW6837
600×800×1800

4 fans 1socket2salvers

GMPX-MW6937
600×960×1800
GMPX-MW8837
800×800×1800
GMPX-MW8937
800×960×1800
GMPX-MW6642
600×600×2000
42U

2 fans 1socket3salvers

GMPX-MW6842
600×800×2000

4 fans 1socket3salvers

GMPX-MW6942
600×960×2000
GMPX-MW8842
800×800×2000
GMPX-MW8942
800×960×2000
GMPX-MW6647
600×600×2200
47U

2 fans 1socket3salvers

GMPX-MW6847
600×800×2200

4 fans 1socket3salvers

GMPX-MW6947
600×960×2200
GMPX-MW8847
800×800×2200
GMPX-MW8947
800×960×2200