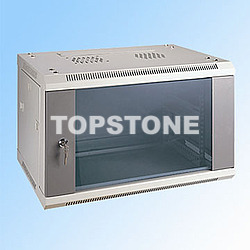 CHARACTERS:

Theupper and down have alignment channel.
Front door has tempered glass door with lock, quick open side door, could be configured with lock
Optional axial fan, two pairs vertical square hole bars , upper and down outlet holes.
The door could be open on the left or the right, no need any tools .
Pre-equipped with wall-mount cabinet rear panel.
After hanging cabinet, tighten the internal part by screws to prevent stolen or colliding.
Two installation methods of wall-mounted and floor-mounted, Optional accessories are supporting feet and castors while floor-mounted installation.
Adjust the square hole in the front and rear.
| | | |
| --- | --- | --- |
| | | |
| Pre-equipped with wall-mount cabinet rear panel | Screw for grounding | Adjust the square hole in the front and rear |
Type
Size(mm)
W×D×H
Valid gearing space
Standard parts
Thickness of material
GMPX-MA6404
600×450×280
4U
No fans, socket, desk panel
Column 1.5mm
Others 1.0mm
GMPX-MA6406
600×450×370
6U
GMPX-MA6409
600×450×500
9U
GMPX-MA6412
600×450×635
12U
GMPX-MA6415
600×450×770
15U
GMPX-MA6418
600×450×910
18U
GMPX-MA6604
600×600×280
4U
GMPX-MA6606
600×600×370
6U
GMPX-MA6609
600×600×500
9U
GMPX-MA6612
600×600×635
12U
GMPX-MA6615
600×600×770
15U
GMPX-MA6618
600×600×910
18U