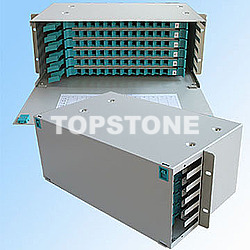 CHARACTERS

The appearance are protected with metal; fiber splice trays of adequate room will be used inside; adapters and splice tray are integrated with tray;will be plugged in to the panel.
It is used for installation of 19" frame.
SPCC cold rolled steel.
A supporting plate is set at the pigtail outlet as a good guidance and protection.
12 cores integrated splice tray could be used with FC/SC/LC adapter.
It is convenient to open and close the door.
Please refer to the instruction manual for the detailed components.
□

Standard accessories:Box one set
□

Optional accessories:FC/SC adapter, pigtail
Type
Dimension
Height(U)
Capacity(F)
Dimension of package W×H×D(cm)
Remark
Inner carton
Outer carton
RPY1212
482×270×44.5
1
12
12 core splice and distribution integrated tray
RPY2412
482×270×75
1.5
24
RPY4812
482×270×128
2.9
48
RPY7212
482×270×182
3
72
RPY9612
482×270×238
4
96