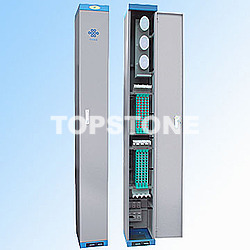 GPX154-K series of fiber optic distribution frame
□
CHARACTERS:

The frame adopts enclosed type structure.
Integrated splice tray with 12F, easy to operate.
It is allowed to preinstall the PLC splitters with various of optical distribution ratios.
Its operation area is on single side. The complete layout of the line routing protection and it ensures the curvature radius ≥ 30mm.
It is used for both ribbon and non-ribbon optical fiber cable with upper or down inlet.