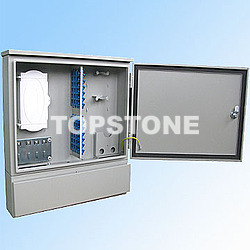 FEATURES:
Function of optical fiber wiring and splicing.
Contained the dependable fixing device of optical cable and soft cable; the protective device of splicing; fixing device of splitter.
It ensures the stability and safety of fiber splicing.
Exquisite appearance, concise structure, easy operation.
Wide range application, suitable for wall-mounting, wall inlayed, pole-mounting, floor installation.
□

STANDARD ACCESSORY:Cabinet one set,#20 fiber tray
□

OPTIONAL ACCESSORY:PLC splitter,SC adaptor,fast connector,bundle pigtail,ribbon pigtail
Type
Size (mm)
(W×D×H)
max capacity (single core)

installation type
GXF6-15N8S1
520×400×120
48
Indoor wall-mounting
GXF6-15N8S2
500×550×160
96
GXF6-15N8S3
610×490×140
48
Indoor wall-inlayed
GXF6-15N8S4
590×640×180
96
GXF6-15N8S5
520×400×120
48
Outdoor wall-mounting
GXF6-15N8S6
500×550×160
96
GXF6-15N8S7
520×400×120
48
Outdoor pole-mounting
GXF6-15N8S8
500×550×160
96
GXF6-15N8S9
520×575×120
48
Outdoor ground installation
GXF6-15N8S10
500×725×160
96