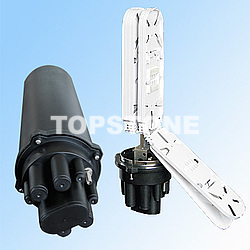 FEATURES
It is suitable for aerial, pole-mounting and wall-mounting etc.applications.
The closure has good sealing strong impact resistance and convenient operation.
It has four round cable entrances of Φ16 and four round cable entrances of φ25. One oval entrance of φ38×69 used for uncut cable.
The cable entrances adopt heat-shrink sealing. The joint of cover and base of closure adopts vulcanized rubber sealing ring to achieve the closure sealing by mechanical fastening.
Inside the body of closure, it consists of cable fixing device, steel core fixing device, earthing protective device, fiber tray of Page-style with multi-layer assembly etc., which could meet the protective requirements of straight-through cable and cable branching.
Remark:Please refer to the instruction manual for the detailed components
□
Standard accessories
GPJ09L9-BR box 1 set,sealing gasket 1set, splice tray 1 set, cable fixing device 1 set,pole-mounting hoop 1 set,splice protective sleeve, nylon tie

□
Optional accessories
Grounding device 1 set, valve 1 set, aerial mounting hoop 1 set,heat shrink sleeve 1 set
Type
Fibers/Tray
Max capacity(F)
Suitable Dia of cable(in)
Sealing structure
Weight/unit
(Kg)
Size of CTN(in)
GPJO9L9-BR
12
72
Small port:Φ0.20~Φ0.35
Middle port:Φ0.31~Φ0.69
Big port:Φ0.39~Φ0.94

Dome type heat shrink sealing

3.5~3.9
18.50x17.75x14.17
(4 pieces)